Aquaris - Where are you looking at? I'm 360° of pure awesomeness! Stars
★



Front tank, has damage and controlling skill, definitely a leader.

---

TYPE


SUMMON



SEJ
MEJ
SX

SCROLLS

Chapter 3 - Tournaments
Chapter 12 - The End&The Start.
Chapter 15 - Never Forget Where We...
Working Place
Mystic Chest
Top Floor Exchange
Champion Exchange
1 on 1 Exchange
Guild Exchange

Water Dragon


---

ACTIVE SKILL: Release a water dragon to smash ground, cause stunned and magic damage to enemies in certain area.



MAGIC DAMAGE: Increase [15 x LV] damage.
Stun rate increase with level, inevitably hit to enemies below level [LV].

EFFECT: Stun two lines.
Tide


---

Randomly attack an enemy, cause magic damage.



MAGIC DAMAGE: Increase [12 x LV] damage.
Knock rate increase with level, inevitably hit to enemies below level [LV].

EFFECT: Raises an enemy into the air, stunning them.
Fluctuation


---

Create high speed torrent to attack enemies surrounded by.



MAGIC DAMAGE: Increase [240 + 12 x LV] damage.

EFFECT: -
Infinite Will


---

Boost courage to increase stats and physical attack.



PASSIVE: Increase [120 + 3 x LV] strength.

EFFECT: Strength boost.
AWAKENED:

Tsunami


---

Summon tsunami to attack.



PASSIVE:

EFFECT: Whenever Aquaris uses 2nd skill (Tide), she will spawn another 2nd skill at other target. The accuracy increase with level,
and at at skill level 30 will never miss to hit an opponent at level 90 or below.

BLOOD AWAKENED:

Royal Blood


---

Aquaris will boost all allies' dodge rate and spell resistance by using Water Dragon.





PASSIVE:

EFFECT: Dodge Rate and Spell Resistance boost.
| | | | | | |
| --- | --- | --- | --- | --- | --- |
| STAT/STARS | ★ | ★★ | ★★★ | ★★★★ | ★★★★★ |
| Strength Growth | 3.3 | 4.95 | 6.6 | 8.25 | 9.9 |
| Intelligence Growth | 2.2 | 3.3 | 4.4 | 5.5 | 6.6 |
| Agility Growth | 1.3 | 1.95 | 2.6 | 3.25 | 3.9 |
Main Page Dialog

---
"Hey! Someone is stealing my scene! Hey! Give me some light here!"
"Everyone's greatest enemies are always themselves!"
"I'm a beginner's hero, so what? I'm still very powerful!"
"Yet another loser that needs to be saved..."
"In anime and games, there are two rules for survival. Rule #1: Become the main character. #2: Follow Rule #1!"
Battle

---
"Shinpatsu! Kachi ni iku wa yo!" (On selection)"
Intimacy Visit

---
"Hello? Master, how did you suddenly come?"

First Met

"Yes? Go on..."
"Am I the first one whom you met in the Academy?"
"It must be destiny that brought you to me."
"Fine! You are my master from now on."
"I will protect you >///<~"

Recently

"Master, how do you think of the academy?"
"You must have met many lovely girls~ such as the overwhelming Lavia and Geisha the beauty~"
"It seems that you seldom talk to me these days......"
"No...I'm not jealous!"
"I'm just...just want to know how's your life in academy!"
"Yes, that's it!"

Favourite Season

"Do you like winter? For its beautiful snow?"
"But Aquaris likes summer more~"
"I can wear skirt, swim and have an outing with master~"
"Well...none of them can be the reason?"
"Okay...actually, actually because summer seems Aquaris..."
"So are you going to like summer?"
Template Created by Mirtilli ₪ Updated by Jen-Ledger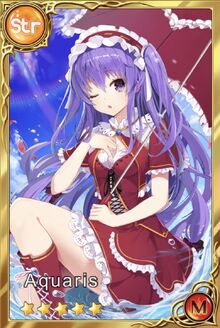 Ad blocker interference detected!
Wikia is a free-to-use site that makes money from advertising. We have a modified experience for viewers using ad blockers

Wikia is not accessible if you've made further modifications. Remove the custom ad blocker rule(s) and the page will load as expected.