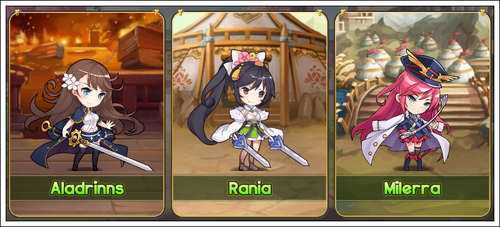 Another mini-game found under Evaluation.
Challenge is broken down into three modes: Conquer Milerra, Conquer Rania, and Conquer Aladrinns. Each mode drops a different set of loot. Typically, only one mode is open per day and you have 5 tries, each try expends 6 stamina. Each mode is broken down into four stages. As the stage difficulty increases, the quality and quantity of loot increases.
Each mode requires a specific type of battle girl. The letter icon in the bottom-right corner of a battle girl's collection image indicates the girls type.
A for Aladrinns, R for Rania, M for Milerra, and P for Perity.
Conquer Millerra: Aladrinns, Rania, Perity (Mon, Thur, Sun) 
Conquer Rania: Aladrinns, Milerra, Perity (Tue, Fri, Sun)
Conquer Aladrinns: Rania, Milerra (Wed, Sat, Sun)
Ad blocker interference detected!
Wikia is a free-to-use site that makes money from advertising. We have a modified experience for viewers using ad blockers

Wikia is not accessible if you've made further modifications. Remove the custom ad blocker rule(s) and the page will load as expected.