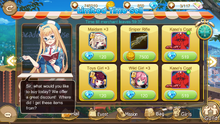 Top Sale (or Limited Time Sell) is a store that randomly shows up and is only available for an hour. It is run by either a differently-voiced Smartie or a little girl dressed up like a bear.
12 items are sold here, most of them are BG scrolls and rare blue/purple items. BG scrolls sold in 2s cost 80 diamonds. BG scrolls sold in 3s cost 120 diamonds. A refresh costs 100 diamonds.
Smartie's Dialog
Edit
Seen in here.
Little Girl's Dialog
Edit
"Sir! My clothes are not for sale!"
"You are today's lucky customer, we have all the goodies here."
"You have great taste like mine~" (after buying)
"This is on hot sales~" (after buying)
"Sir, this is not for hot sales anymore..." (after tapping a sold out item)
"You can only purchase each hot sales item once." (after tapping a sold out item)
Ad blocker interference detected!
Wikia is a free-to-use site that makes money from advertising. We have a modified experience for viewers using ad blockers

Wikia is not accessible if you've made further modifications. Remove the custom ad blocker rule(s) and the page will load as expected.